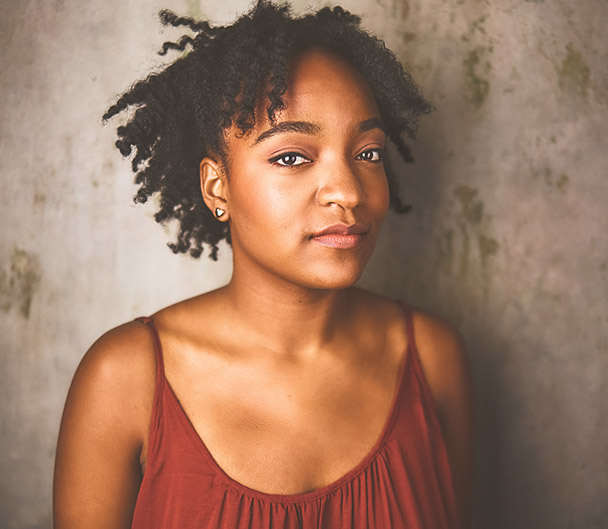 Kalilah (pronounced "Kuh-lee-luh") Sharese Black was born on the island of Oahu in Honolulu, Hawaii to military parents and raised in the Bronx, New York. She was a happy and lively baby and her parents have vivid memories of her humming songs in her crib from as early as 7 months old. She was enrolled in dance classes at 8 years old while simultaneously starring in her church's youth productions and recitals. She then landed a childhood television and commercial agent at 10 and began auditioning and working- even landing a spot on "SNL". Although she was enrolled in the Exceptionally Gifted & Talented Program for Math and Sciences in elementary and junior high school, she was convinced, due to her love of the spotlight, that she should audition for the major performing arts high schools of New York City. Not only was she accepted into all of her high school choices, she was accepted into Fiorello H. LaGuardia High School of Music & Art and Performing Arts (also known as "the F.A.M.E. school") for both the vocal AND drama concentrations. After graduating with her drama concentration diploma, she attended North Carolina Agricultural &Technical State University.
During her undergraduate tenure as an "AGGIE", she performed in not only many educational theatrical productions like "The Wiz" and "Mad at Miles", but also some of the great regional theaters in North Carolina in shows like "Chicago" and "Black Nativity". Within months of obtaining her B.F.A Professional Theatre degree in 2011, she landed a lead singer gig in Singapore in a cover band. It was there that she auditioned for (and booked!) Hong Kong Disneyland's "Festival of the Lion King" as Nala.
Kalilah spent 9 fulfilling months in Hong Kong getting to know the city and culture while certainly amplifiying her affinity for white rice and soy sauce. After submitting for a nationwide open call for "The Lion King", she came back stateside to assume the role of Shug Avery in "The Color Purple" at The Barn Dinner Theater in her college town of Greensboro, North Carolina. Once she was back home in New York City, she accepted an offer to work for Princess Cruises as a Guest Entertainer. This contract was a delight as she was able to travel to 5 countries in South America as well as visit the breathtaking glaciers and whales of Juneau, Alaska. After her cruise contract she was inspired and pumped to take the NYC audition scene by storm. In January of 2015 after yet another callback, Kalilah joined the North American touring cast of "The Lion King" as a vocal swing (without representation!). By November of 2016, Kalilah made her Broadway debut with the New York City cast of The Lion King at the legendary Minskoff Theatre. It was a dream come true and a huge notch in her belt to have accomplished such a sought-after position so early on in her professional career. In July of 2017 she booked a role in Bebe Winans' "Born For This" in Los Angeles, California which consequently led to her meeting and performing for such legends as Cicely Tyson, Sidney Poitier and Stevie Wonder. But the experience that took her breath away was the meeting of her childhood (AND adulthood!) idol, Angela Bassett. Kalilah is a FIRM believer in the Law of Attraction and lives by those guidelines daily. She gains inspiration from those in her circle as well as the trailblazers in her field.
Kalilah believes life should be enjoyable and abundant and is committed to embodying those principles with everyone she meets. She has a knack for comedy and truly believes she was born to entertain. She gets excited about any opportunity to spread light and love and takes her God- given gifts earnestly and with pride. Stay tuned for what's next and feel free to drop a line!